International
The International Departure Hall, comprising of Check-In Halls A and B, is located at Level 1.  
The drop off to the International Departure Hall is situated on the raised access road.  A disabled passenger drop off point is also provided on the roadway.  Vehicle drivers may only stop on the roadway to drop off their passengers and are not permitted to park their vehicle there under any circumstance.
Passengers can locate the check-in counters of their respective airlines by checking the flight information displays on Level 1 situated before the central entry gates and/or inside the Check-in Halls near entry gates.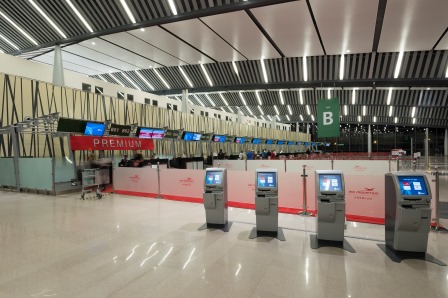 Self-Check-In Kiosk
In addition to airline check-in counters, self-check-in kiosks are also available in the International check-in halls A and B.  Passengers can use this facility for printing their airline boarding pass.  They can then drop their check-in baggage at the baggage-drop counter of their respective airline.
Airlines offering self-check-in at the airport are:
Air France
Air Mauritius
British Airways
South African Airways
Domestic
A dedicated Domestic Departure Hall is located on the left wing of the Terminal at Ground Level for passengers departing for Rodrigues.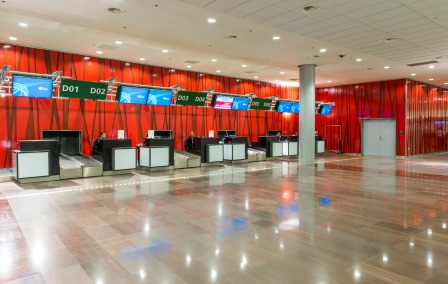 The drop off for Rodrigues is accessible via a designated route at Ground Level.
For travel documents, click here. 
Check- In Timings
Check-in counters for all airlines generally open three hours prior to the Scheduled Time of Departure (STD) and close one hour prior to STD.   
Passengers should arrive at the airport no later than two hours before STD.  They are requested to refer to their airline ticket and/or any communiqué from their airline for guideline.   Boarding usually begins around 45 minutes before departure.
Immigration
All passengers are required to clear Immigration.  For more details, click here.
Security Screening
Passengers shall ensure that they do not carry any prohibited items in their check in or cabin baggage.  For details on prohibited items, click here.
Subject to Immigrations clearance, all passengers are required to clear Security Screening before proceeding to the boarding gate area.
Boarding
Passengers must arrive at their boarding gate at the time stated on their boarding pass.  They are advised to verify the flight departure information by checking the Flight Information Displays for any updates.